Jiegao: NO.1 special economic zone on the inland border
Source: Time:
More than 20 years have passed since the economic reform and opening-up policy was adopted in Jiegao in Yunnan Province. Aug 29 is the tenth anniversary of the city's "Special Export Processing Zone" policy.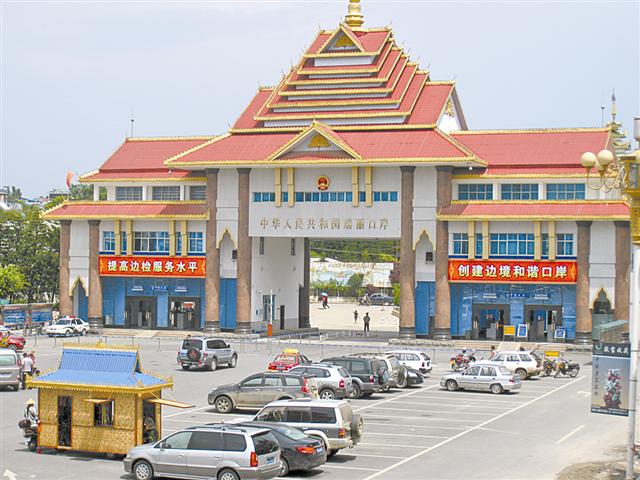 Jiegao is located in southern China near China's border with Myanmar. Twenty years ago, developers in Jiegao declared an economic reform and opening-up policy for the town, striving to boost the economy in the lowland region. City officials traveled to Zhejiang to attract investments, and private enterprises were established in the city. A Sino-Myanmar border trade fair was held. In 2000, the "Special Export Processing Zone" policy was implemented, elevating Jiegao to a new era of economic development.
"Jiegao" means "the old city" in the language of the Dai ethnic group. It is 2.4 square kilometers in size, and its' eastern, southern and northern borders are adjacent to Myanmar.
In the 1980s, the Dehong government decided to adopt Jiegao as a pioneer and develop the lowland region. In the following years, a series of opening-up policies concerning foreign trade were adopted. In 1990, Jiegao set up its border trade zone, attracting investors from around the country. The real estate market grew, too, and all developed lands quickly sold.
Since 1992, Jiegao has been considered a national open city along the coast, which brought prosperity to the city. Business leaders from the well-developed provinces of Zhejiang and Fujian invested in the city, and soon the small city had 116 companies doing border trading business – more than any other city in China. Jiegao has established trade and relations not only with 23 provinces on the Chinese mainland, and also with Taiwan, Hong Kong, Myanmar, Thailand and Singapore.
Due to the special development model of Jiegao, the Dehong government on Aug 28, 2000, implemented a special policy tailored to the needs of Jiegao, creating a "Special Export Processing Zone" policy. The processing zone is 1.92 square kilometers in size with the major function of trade, machining, storage and tourism. All goods in the processing zone are duty-free. Goods in the zone to be exported enjoy preferential policies, and goods from a third country can also be transferred from customs into the zone for further processing or for sale.
This unique policy has brought remarkable economic benefits to Jiegao. During the financial crisis in Southeast Asia, the policy held back a continuous downfall in trade with Myanmar. Since 2001, the trade volume in Jiegao takes up 60 percent of that between Yunnan Province and Myanmar, and takes up more than 30 percent of that between China and Myanmar.
For eight consecutive years, Sino-Myanmar trade volumes increased by a rate of more than 10 percent. Every year, 5.2 million people travel abroad from Jiegao, and 850,000 t vehicles are imported into China through Jiegao, which ranks first and third among all land intersections in China. Now that Jiegao has become a logistics center for China and Myanmar. 80 percent of goods imported from Jiegao are sold to other provinces, and 80 percent of goods exported from Jiegao come from other provinces.
Thanks to the "Special Export Processing Zone" policy, Jiegao has become a leading border trade city.