International fair to tap new energy
Source: Time: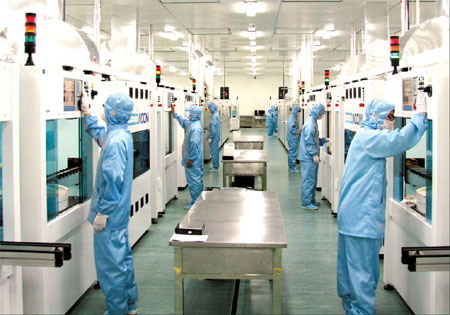 Photovoltaic production line in Shuangliu county【Photo Source:China Daily】
The China New Energy International Forum and fair (NEIF) will kick off September 28 in Chengdu, capital of southwestern Sichuan province.
It is fast becoming one of the most influential international events in new energy industry, said officials.
To enhance NEIF's appeal, the organizing committee has invited several high-ranking government officials.
Among them is the vice director of the National Development and Reform Committee, slated to give a keynote speech at the forum's opening ceremonies.
More than 30 famous foreign alternative energy institutions have confirmed their attendance, including the Global Wind Energy Council and renewable energy associations from Japan, the United States and Europe.
A series of seminars will be held during the forum, touching upon photovoltaic technology and nuclear energy development.
Delegates from the United States, Germany, Spain and 10 ASEAN countries are expected to take part. Around 400 leading domestic companies will also be in attendance, and 71 enterprises have already booked 7,500 square meters of exhibition space.
Industrial experts from both home and abroad will include Zhang Huazhu, chairman of the International Association for Clean Energy and Murray Cameron, vice president of the European Photovoltaic Industry Association.
During the forum, Chengdu's Shuangliu county is expected to develop strategic partnerships with a number of leading new energy research associations.
The region has plans to sign nine formal investment contracts, three letters of investment intent and five 26.5 billion yuan framework agreements.
This year's forum is hosted by Chengdu city government, Chinese Renewable Energy Association, Chinese New Energy Chamber of Commerce and the Chinese Association of Resource Comprehensive Utilization.