Wide-range of regional cooperation
Source: Time:
In cooperation with regional organizations, China is offering a range of foreign aid for agriculture, infrastructure, education, healthcare and the fight against climate change.
Partners in the efforts include:
Forum on China-Africa Cooperation (FOCAC)
The forum was founded in Beijing in October 2000 by China and more than 40 African countries. The triennial event aims to promote friendly relations and mutually beneficial development.
During the 2000 gathering, China pledged 10 billion yuan for debt reduction and cancellation. An African human resource development fund was also established.
At the November 2006 FOCAC Beijing Summit, President Hu Jintao introduced eight measures intended to strengthen China-Africa partnerships.
Regional cooperation with ASEAN
China and ASEAN signed an agreement in November 2002. China now actively participates in the Greater Mekong Subregion economic cooperation.
China-Pacific Island Countries Economic Development and Cooperation Forum
At the first forum held in Nadi, Fiji in April 2006, the Chinese government pledged to cancel debts of the least developed island countries. It also extended debt payback periods for other nations by 10 years and gave three billion yuan in favorable loans.
Shanghai Cooperation Organization (SCO)
A SCO regional economic cooperation program was initiated in August 2006. The organization was founded by national leaders from China, Russia, Kazakhstan, Uzbekistan, Kyrgyzstan and Tajikistan
The Forum for Economic and Trade Cooperation between China and Portuguese-speaking Countries
Founded in Macao in October 2003, the forum recently provided Mozambique ministerial-level officials insight into special economic zones.
China-Arab Cooperation Forum
China has provided training to nearly 5,000 residents of the Middle East since the forum was founded in Jan 2004.
China-Caribbean Economic and Trade Cooperation Forum
At the second forum held in Xiamen in September 2007, the Chinese government pledged 4 billion yuan in preferential loans to Caribbean nations.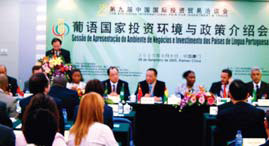 Briefing on investment environment in Portuguese-speaking nations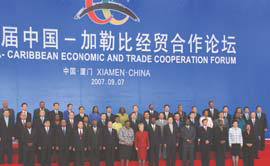 Representatives of China and Caribbean countries attend the opening ceremony for the second economic and trade forum.